First aid kits and supplies for the workplace and home | Need help? Call 0800 999 4494
If you require products that are not listed then please contact us!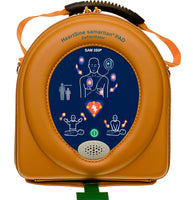 The HeartSine Samaritan PAD 350P Automated External Defibrillator
This public access defibrillator has an 8-year warranty and a unique combined battery and pad-pack with a 4-year life from date of manufacture. 
HeartSine Samaritan PAD 350P